INTRO PRICE PROMOTION – INFOSCREEN ONLY £300
With DigiScreen.co.uk you can take advantage of our introductory offer and have this amazing Infoscreen for your store, your restaurant, café, community or office.
On offer is a very stable and reliable digital signage solution, for the price of placing an advertisement in your local paper.
If you have an exhibition coming up our Infoscreen is a perfect stable solution that takes up hardly any space, uses minimal power, and no internet connection is required.
There are no monthly fees to pay – we help you get started and are there for you whenever you need new content on your screen.
This offer is limited to UK residents so order your Infoscreen at this amazing price while stock lasts!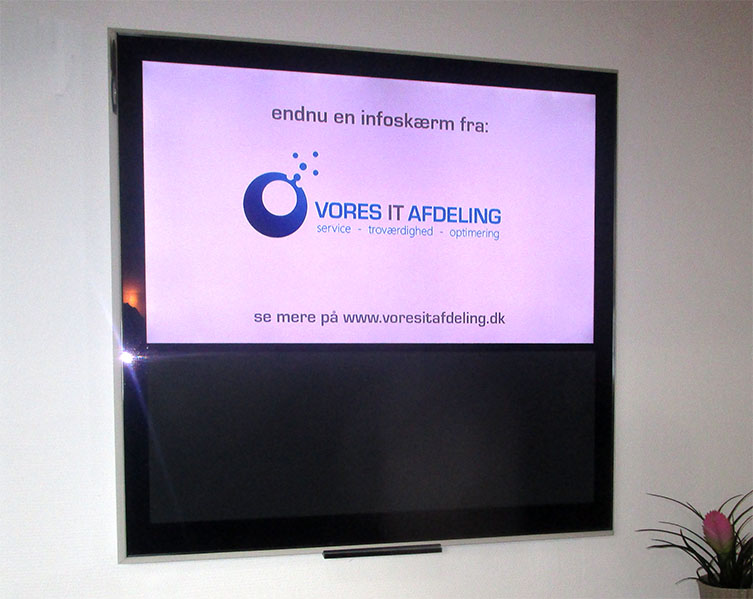 ONLY £300, how come? And is it any good?
Yes, the price is very low. This solution is supplied without a screen and that means that you can choose where you want to display your presentation.
A new flatscreen TV from a local store? A designer model from Bang & Olufsen?
A jumbo Tron at a stadium, or do you have an old flatscreen in the loft that you no longer use?
See examples of our presentations below.
What do I get for my money?
a mini computer to play your personal presentation on your Infoscreen
professional graphic design and layout of your presentation
installation cables and a full test of the solution

WHY WAIT? Contact us now to hear about the possibilites!
Want to be an ambassador and try out our solution free for a month? Just drop us an e-mail.
Still not convinced?
Here you can see a few examples from some of our presentations.
Flügger paint shop in Denmark. A presentation with lots of video feed where graphics are shown on top of the video.
Autogaarden, a car repair shop showing their offers in the window.
Welness center showing nice pictures from the spa.
Loop fitness in Denmark – showing the zooming perspective on pictures.
Turned display with price list from a local museum café.
Car dealer's Infoscreen between the cars on display.
Quick and simple demo for Holiday Inn – Have a nice summer!